Amount Per Blondie
Calories
122 kcal
Protein
8g
Carbohydrate
6.8g
Fat
6.7g
Dietary Fiber
1.3g
Calories per Gram:
Fat 9 • Carbohydrate 4 • Protein 4
Ingredients for 10 Protein Blondies:
Preparation of the Vanilla Protein Blondies: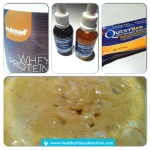 Preheat the oven to 170° Celsius and bake 1/2 QuestBar Vanilla Almond Crunch for about 5 minutes.
Seperate 3 eggs. Put the egg yolks into a bowl and mix it with Whey Protein, milk, naturalFIT OIL and FlavDrops. Crumble the half of the baked QuestBar and add it to the cream with the Instant Oats, baking powder and 1 pinch of bourbon vanilla. Finally whisk the egg whites and mix it with the cream.
Take a loaf pan, oil it with a little bit of Coconut Oil and spread the dough. Bake it for about 20 minutes (170° Celsius) and afterwards let it cool down for some minutes.
Cut the cake into 10 pieces and you will have 10 delicious Protein Blondies. Each Blondie contains 8g of protein and 1.3g of fibre.
Enjoy and stay fit!