Amount Per Protein Brownie
Calories
147 kcal
Protein
11.5g
Carbohydrate
11.9g
Fat
5.6g
Dietary Fiber
2.8g
Calories per Gram:
Fat 9 • Carbohydrate 4 • Protein 4
Ingredients for 9 Chocolate Protein Brownies:

Preparation of Chocolate Protein Brownies: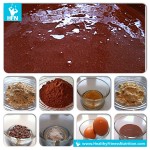 Preheat the oven to 200° Celsius for 10 minutes.  Mix all dry ingredients (Myprotein Instant Oats, Cocoa, Whey Protein, Salt, Backing Powder and Cocoa Nibs) in a big bowl. Mix eggs, Walden Farms Caramel Syrup and Soy Milk in another bowl. Afterwards mix dry and liquid ingredients.
Put the mass on a baking sheet with a baking paper (about 5mm high). Bake it for about 15 minutes (180° Celsius). Let it cool down and cut 9 Protein Brownies. One Protein Brownie contains 147 calories and 11.5g of Protein.
Enjoy these healthy and delicious brownies!
Do you know our Calorie Calculator? You can easily calculate your needed calories to gain mass or lose fat. Check it out!