Amount Per Cookie
Calories
61 kcal
Protein
5g
Carbohydrate
3.5g
Fat
3g
Dietary Fiber
2.2g
Calories per Gram:
Fat 9 • Carbohydrate 4 • Protein 4
Ingredients for 12 QuestBar Protein Cookies:
Preparation of the Protein Chocolate Cookies: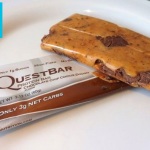 Preheat the oven to 180° Celsius for about 10 minutes.
Cut the QuestBar into pieces and bake them for 6-8 minutes. Put all the other ingredients into a bowl and mix them. Add the baked QuestBar pieces and mix it again.
Wet your hands, shape 12 small balls and spread them on a baking sheet. Flatten the balls with a drinking glass (water the ground). Afterwards bake them for 15 minutes (180° Celsius).
Let the cookies cool down for a few minutes and enjoy 12 healthy and delicious Protein Chocolate Cookies! One cookie contains 5g of protein, 3.5g of carbs and 3g of healthy fats. Furthermore each cookie contains 2.2g of fibres.