Amount Per Pancake
Calories
384 kcal
Protein
49.3g
Carbohydrate
9.6g
Fat
16.2g
Dietary Fiber
2.1g
Calories per Gram:
Fat 9 • Carbohydrate 4 • Protein 4
Ingredients for High-Protein Vanilla Pancakes Recipe: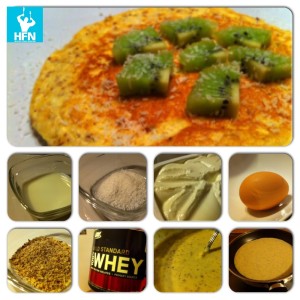 Preparation of the Protein Vanilla Pancakes:
Put all the ingredients into a bowl and mix it with a egg whip. Put the paste into a small pan (15cm diameter) and roast one side for about 7 minutes. Turn it with a plate and roast the other side for another 7 minutes. Let the pancake cool for 2-3 minutes and add some calorie free Walden Farms Caramel Syrup. Finally you can add some fruits like kiwi, bananas or strawberries. If you need your personalized Meal Plan, you can get it here. Enjoy and stay fit!
Product recommendation for this fitness recipe: