Amount Per Cookie
Calories
83 kcal
Protein
9.7g
Carbohydrate
1.4g
Fat
4.1g
Dietary Fiber
0.6g
Calories per Gram:
Fat 9 • Carbohydrate 4 • Protein 4
Ingredients (10 Cookies):


Preparation:
Preheat the oven to 200° Celsius for about 10 minutes. Put two whole eggs into a bowl. Add Whey Protein and mix it. Add Peanut Butter and Vanilla and mix it with a fork. Put a baking paper on a baking sheet and spread a bit of olive oil.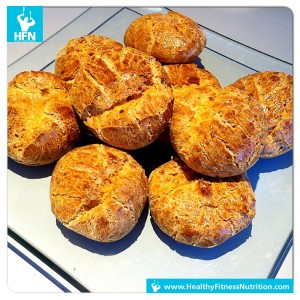 Use a tablespoon to form about 10 balls with a size of a table tennis ball and put it on the baking sheet. Flatten the balls with a fork. Put the baking sheet into the oven for about 6-7 minutes at 175° Celsius. The outside of the protein cookies is crispy and inside they are fluffy. One cookie contains 83 calories and 9.7g of protein.
Check out our Calorie Calculator to get to know your daily calorie intake to gain muscle or lose fat.
Enjoy and stay fit!